[rev_slider_vc alias="features"]
Features
1 Month Risk Free Trial
All our subscriptions include a 1 month free trial. Simply cancel during the trial period and you pay nothing.
Simple & Powerful Dashboard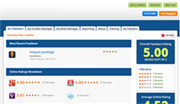 The dashboard comes with a secure login, giving you access to all the powerful features.
Initial Consultation
To get you off the ground, you can book a session (up to 30 minutes) and you will be given a helping hand setting everything up and/or advice on using the product. Note that you get ticketed support as well. Alternatively, we offer a
small-business setup
or a
medium-business setup
where everything is done for you.
Ticketed Support System
Send a report request at anytime for express response and assistance.
Basic Setup
A Glowing Reputation representative will add your business information and company logo, import your contacts and other basic setups.
(Available with our small business and medium business plans)
Small Business Setup

On purchase of our Small Business Setup Product, we will do all the setting up sufficient for a small business usage of the system
Click for Business Setup details
Medium Business Setup
On purchase of our Medium Business Setup Product, we will do all the setting up sufficient for a medium business usage of the system
Click for Medium Business Setup details
Branded Customer Interface
Feedback requests and other communications are branded with your company logo.
Auto Customer Feedback Funnel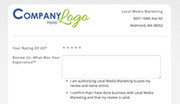 An automated sequence for gathering feedback and asking for reviews (subject to positive feedback and within set parameters)
Get Feedback At Employee Level
The feedback can be attributed and traced to the employees who deliver your products and services.
Intelligent Review Routing
Depending on the sentiment of gathered feedback, customers are either routed to sites where they can leave reviews or be presented with a feedback form to vent concerns or frustrations. The routing prevents poor reviews being posted online and the means for prompt action to address issues
Monitoring of Top Review Sites
Monitor reviews that have been posted about your business on sites such as Yelp, Yahoo!, Bing, Yellow Pages, Facebook and so on from your dashboard. You are also alerted about new ratings or reviews.
Social Media Integration
Various features to help you promote recent positive reviews on key social media sites.
Reputation Email Marketing System
Use the inbuilt email marketing system to remarket to customers based on the feedback they've left. Emails can be personalised and branded so they are tailored to your own customers.
Real Time Reporting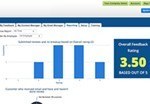 A powerful tool that provides invaluable information, allowing you to see how your employees (down to each individual) are performing in terms of levels of customer the generation of customer reviews.
Real Time Alerts (SMS/Email)
See overall rating and new reviews with SMS text message alerts and/or emails.